*This post may contain affiliate links. As an Amazon Associate we earn from qualifying purchases.
Since its inception, freediving has become more than just a way to hold your breath and experience the ocean. In fact, for serious divers, it's an extreme sport demanding more skill and dedication than almost anything else in their lives. Before you learn how to freedive for fun, it's important to understand the difference between this and other types of diving.
What's The Difference Between Freediving And Other Types Of Diving?
There are two major differences between freediving and other methods of going underwater, like scuba diving.
First, freediving uses the minimal equipment. Most people need a wetsuit, some fins to help them move through the water, and a tool to measure how deep they've gone. That's all there is. Note the conspicuous absence of an air tank – freediving takes place on one breath, and yes, it is more dangerous as a result.
Second, freediving's goal is to reach as deep as you can before returning to the surface. Unlike scuba diving and snorkeling, which are slow and relaxed trips, freediving is competitive and encourages you to constantly strive for a new personal record.
Freediving should not be confused with skin diving (which avoids the use of suits that freediving requires).
To help reduce the risks, some freedivers partner with scuba divers who can provide air and bring them back to the surface if need be. This is not recommended if you're still in training – if you think you can rely on a crutch, you may dive deeper than you can safely return from.
There are also some heart-related risks related to holding your breath for long periods of time, but these were found to be within typical values.
How Long Does It Take To Learn How To Freedive?
That depends on the course you take (and you should take a class). In most cases, freediving instructors will cover three critical points.
First, you'll learn the freediving principles, including things like safety standards and why things are done in certain ways. The regulations exist for a reason – if you don't follow them, you run the risk of serious injury. Study hard during this part of your freedive training.
Next, you'll have sessions in confined water areas (typically a pool) where you'll practice holding your breath until you can safely dive underwater for long periods of time. This is the biggest variable in the learning process. Some people reach the minimums expected of the sport quickly, while others may take days or even weeks to become decent free divers.
Note that this isn't limited to waiting underwater. In most cases, you'll have to move around the pool, and this will burn oxygen faster than you think. Freediving involves trying to be as efficient as possible with the oxygen you have, and it takes time to learn the swimming movements that offer minimal resistance underwater.
Finally, you'll have an open water session to practice freediving. Most schools have a goal of at least 30 feet. If you can reach that depth and return, you're ready to be a freediver. This part of the course will also emphasize aspects of the buddy system (and you do want a buddy when you're freediving, given the risks). By this point, you'll need freediving gear, and it's best to buy your own.
How Deep Should A Human Dive?
In freediving, humans have been able to go as far as several hundred feet. No Limits Freediving (see below) allows the greatest depths, while most others end around 100 feet. It's extremely challenging to do a breath hold beyond these limits, so keep that in mind as you learn to freedive.
Weights
Weights aren't mandatory in all forms of freediving, but they do help you achieve a balanced dive. Overall, weights have two primary purposes.
First, the weights help you remain buoyant on the surface. In many cases, you'll be almost out of oxygen when you return to the surface, and you don't want to have to push yourself harder to stay afloat. By remaining buoyant, you'll be able to relax once you've reached the surface.
Second, weights will help you remain neutral in the water. Humans are naturally buoyant as long as we have water in our lungs, and if you're trying to dive as deep as you can go, being pulled towards the surface is counterproductive.
All weights are designed to be easy for buddies to remove on a moment's notice. Women usually need more weights than men due to physiological differences. The correct amount of weight varies based on everything from your current form to the temperature of the water, so you'll need to adjust things each time you dive.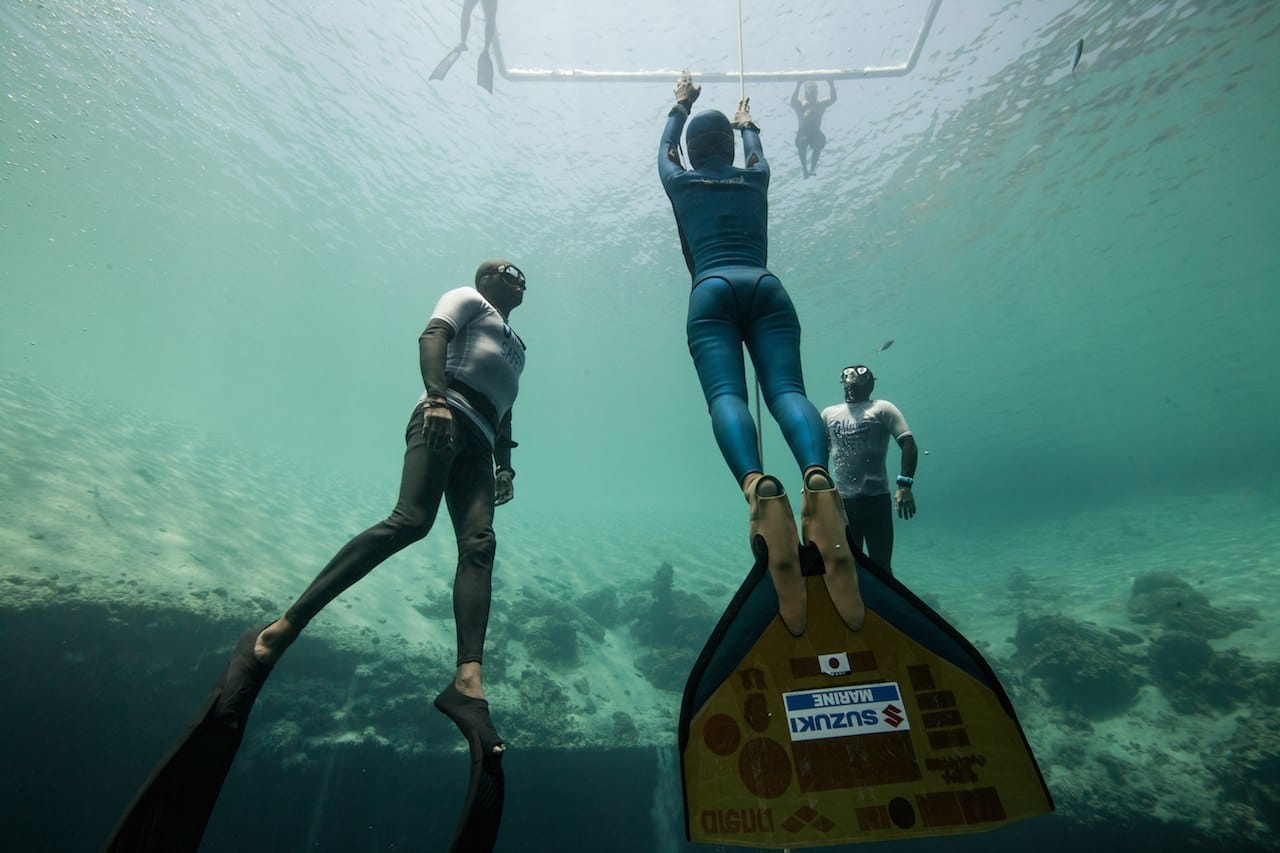 Types Of Freediving
What is freediving actually like, you ask? There are many types of breath-hold diving, each based around a certain set of rules.
There are two things to keep in mind about these. First, you can do whichever of them you want – you can even dive in multiple styles if you want to. Second, some competitions require certain styles, so you'll need to keep that in mind if you want to dive against others. Let's take a look at the current diving styles.
Static Apnea (STA)
This is the basic form of freediving. In Static Apnea, weights are not used. The idea is that the diver's body must always be able to float to the surface – and as easily as possible – at all times. Many people regard this as one of the most challenging forms of freediving because the body is actively working against the goal at all times.
Dynamic Apnea With Fins (DYN)
Often regarded as the "common" form of freediving, this style focuses on making divers as neutrally buoyant as possible. The main idea is to be able to swim with the fins and go up, down, or in any other direction without being pushed around by the weights. It often takes a lot of experience to get this right, so divers may spend weeks practicing and perfecting it.
Dynamic Apnea Without Fins (DNF)
This is similar to the previous style, but it removes the fins. Since the fins make it easy to correct yourself and move quickly, small differences in weight can have a major impact on this diving style. As a result, this is easily one of the most challenging forms of freediving.
Before you even start on this style, you should work on how to hold your breath longer. If you're already good at holding your breath, you'll have time to practice and get used to freediving without fins.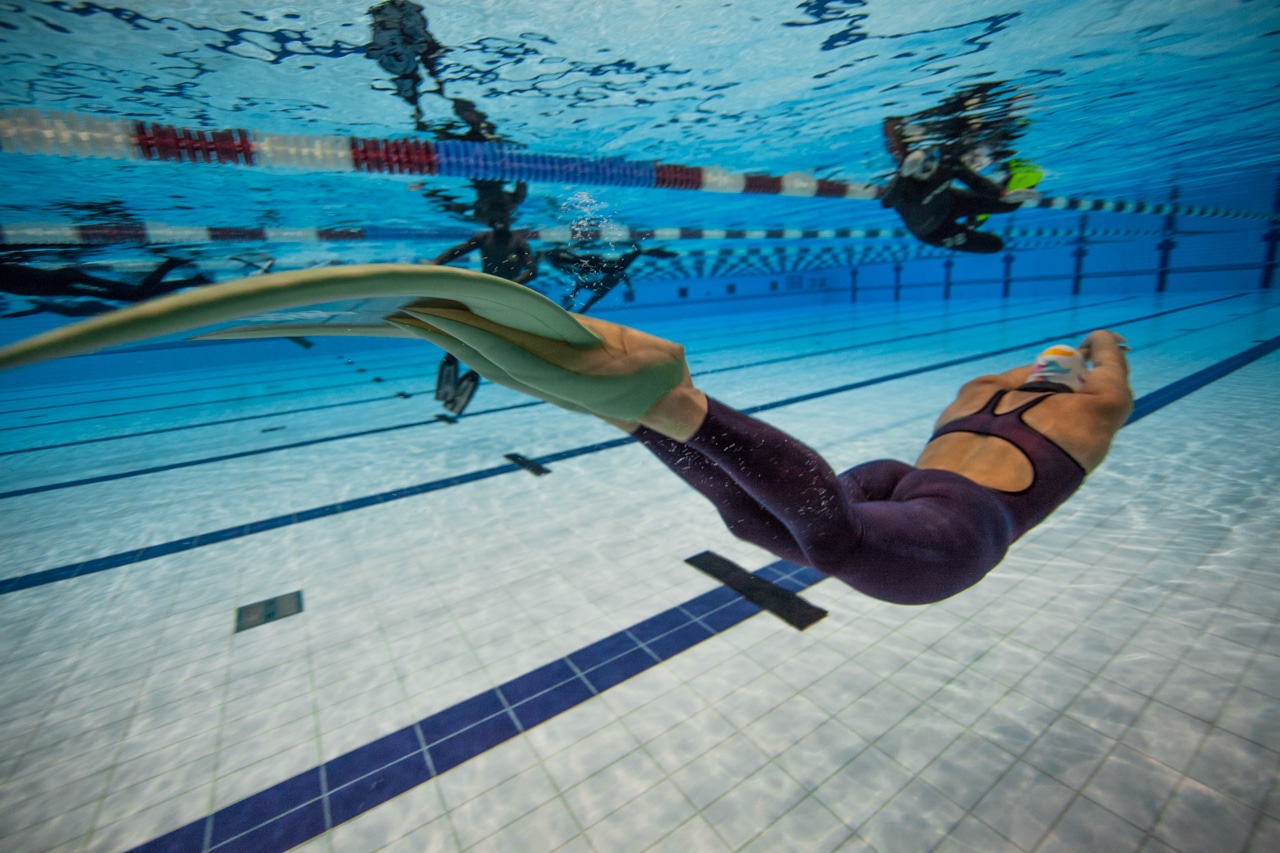 Constant Weight Freediving With Fins (CWT)
Widely regarded as a prestigious form of competitive freediving, Constant Weight Freediving restricts divers to moving along a dive-line they can only touch at the bottom to turn. Unlike some other freediving styles, divers can't change their weight during the dive to make it easier to ascend.
Unlike some other forms of freediving, it's common for people to use a monofin that attaches to both legs. By using a dolphin kick, they're able to maximize the efficiency of the dive.
Constant Weight Freediving Without Fins (CNF)
Much like Dynamic Apnea Without Fins, Constant Weight Freediving Without Fins is a more challenging version of the 'normal' style. It's also more dangerous than most of the other freediving styles for one reason: Most divers add too many weights to make it easier to descend. That's a boon when you're going down, but it also makes it harder to get back to the surface (when you're rapidly running out of the air).
As such, CNF is one of the most important styles to have a buddy with. Ideally, the buddy will be in scuba gear so they'll never have to return to the surface before you do.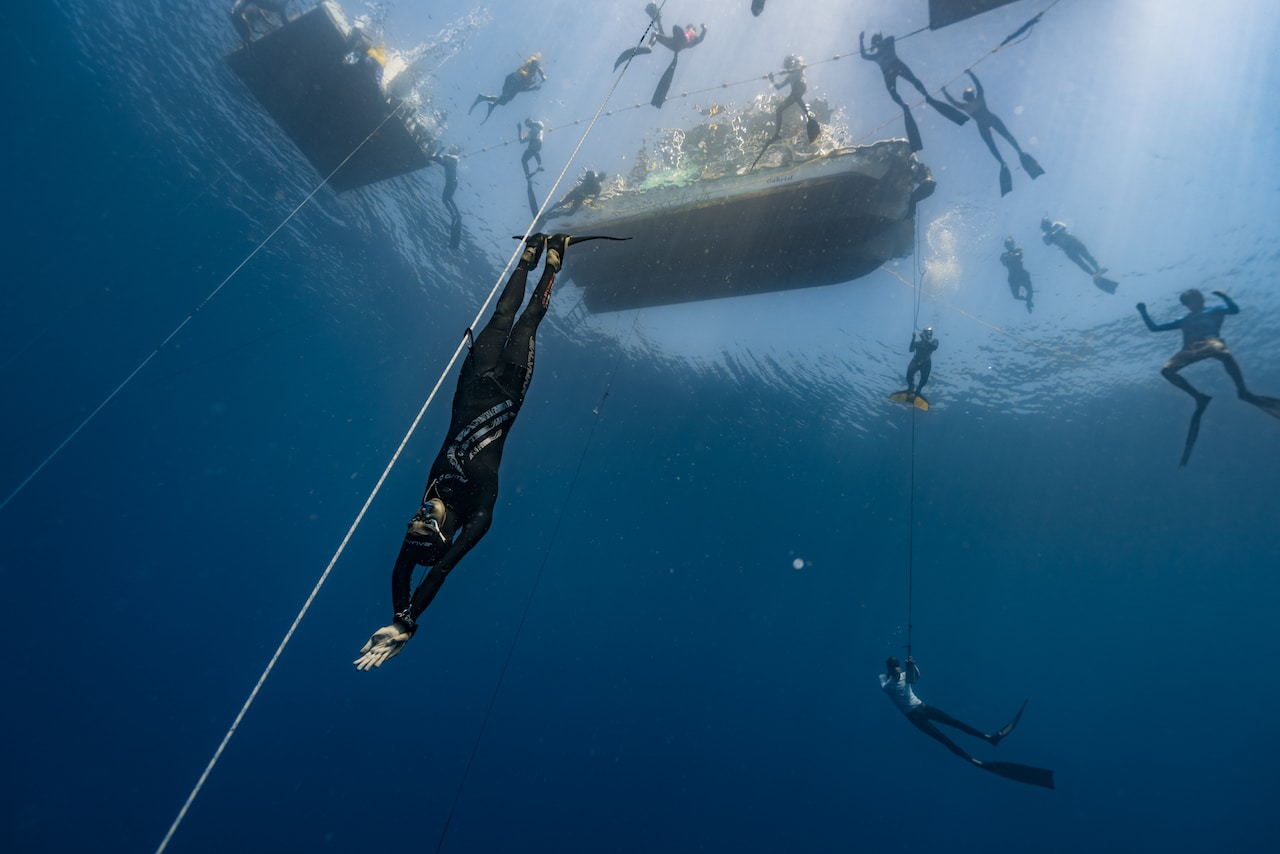 Recreational Freediving
The 'casual' format of the sport, recreational freediving is ideal if you want to spend some time under the waves without pushing yourself as deep as you can go. The process is simple.
First, you want to set yourself to be neutrally buoyant a little above the seafloor, which may be as little as 10-12 feet. (In normal freediving, neutral buoyancy is often set to 30 feet. You don't want to go crashing into the ground during a casual swim!)
Free Immersion Freediving
A beginner-friendly format, Free Immersion Freediving allows full use of a rope during both the descent and ascent. In essence, rather than swimming along, you're just pulling yourself up and down. This has a few key differences from other styles.
First, because you're not moving as much of your body, dives can last longer. Some dives have lasted nearly five minutes, though you'll need to practice a lot before you can get close to that. Second, because it's slower, it's much easier to enjoy the sights of the ocean.
Don't let the name fool you, either. Free Immersion dives go about as deep as CWT, so you won't be missing out on any of the sights.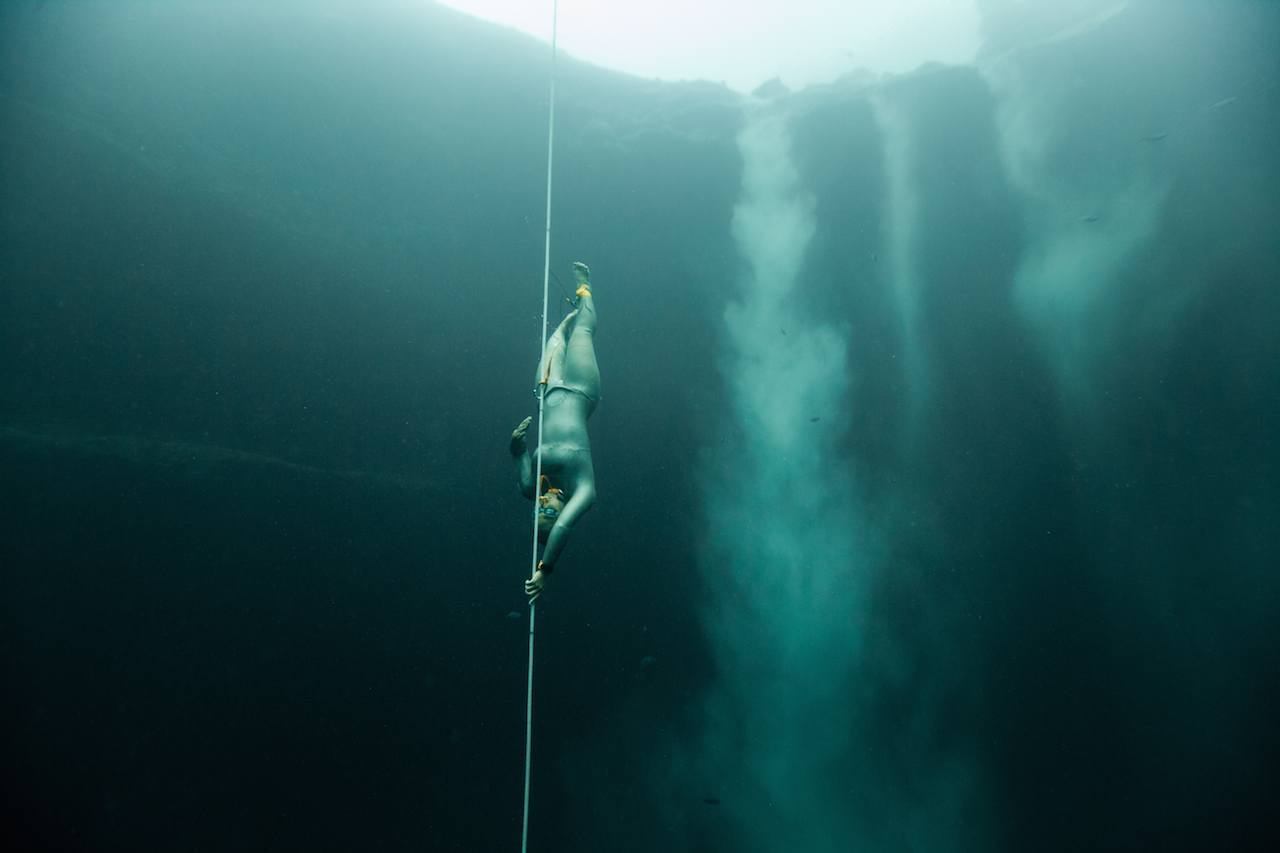 Variable Weight Freediving
Another "challenge" style, Variable Weight Freediving uses weights to sink, followed by swimming up to the surface under your own power. Descents tend to be quite rapid, so it's crucial to understand equalizing pressure as you sink to your destination.
No Limits Freediving
As the name suggests, there are no limits on this, the last of the common disciplines in freediving. You're allowed to descend and ascend using the method of your choice, with many divers choosing to use motor vehicles that allow them to go further down than anyone else.
A keen understanding of your limits is critical for safely freediving in this style. Even experts can misjudge things, as in the 2012 case where world champion Herbert Nitsch was hurt in his 800ft dive attempt and needed to spend time in a decompression chamber.