*This post may contain affiliate links. As an Amazon Associate we earn from qualifying purchases.
In recent years, scuba diving has exploded in popularity. This is due to major technical developments that have made scuba diving more accessible and affordable than ever before. These days, we are all free to explore shipwrecks at the bottom of the Caribbean Sea or the depths of remote caves off the coast of Australia.
Truly, now is better than ever to be a scuba diver. So, why not explore the very best that the aquatic world has to offer? In this article, we will break down what makes for the best scuba diving in the world. From legendary corals to luscious coasts, let's get into where the best scuba diving in the world can be found and how to prepare yourself for it.
The Best Scuba Diving: A Brief History
Over the years, the best practices and locations for scuba diving have changed. Since the inception of modern diving equipment in the early 20th century, scuba diving has grown in popularity and technological sophistication. In fact, the first breathing equipment developed for undersea divers consisted of just a regular rubber hose and an oversized breathing bag.
Thankfully, we no longer rely on such antiquated methods of diving. Instead, the first patented scuba equipment set in 1952 set off a revolution in underwater exploration. Since then, the sport of scuba diving has become safer and more affordable for the average hobbyist. Plus, the introduction of decompression gear and other risk-reduction technologies have made diving much more palatable.
Preparing for the Best Scuba Diving Experience
Every veteran diver knows that scuba diving is neither an easy nor risk-free experience. In fact, every year many divers suffer catastrophic injuries thanks to negligent behavior and other risks inherent to diving in the ocean. The truth is, no matter how much you train, disaster can strike at any time. However, there are precautions you can take to minimize your exposure to risk.
As a baseline, every diver needs to secure their dive certification. This is non-negotiable and is usually required by law in most jurisdictions. Once scuba certified, make sure you embark on several practice dives, ideally under the tutelage of a guide, only after extensive training will you be ready to take on the best scuba diving destinations in the world?
Gearing Up
When taking on scuba diving as a hobby, there is no room to cut corners. For example, you cannot simply search for "scuba shops near me" and expect to find the equipment and guidance required for the best scuba diving in the world. Rather, you need to source your equipment from professionals who understand the demands of high-level scuba diving destinations.
We recommend using Yelp and other crowdsourcing websites to pinpoint the best scuba gear providers and training centers in your area. Alternatively, you could source your equipment from vendors trusted in the industry, such as Divers Direct. However, make sure that the equipment you purchase is well reviewed and highly rated.
The Top 6 Must-Dive Scuba Sites
If you want to discover the best scuba diving in the world, you need to know where all the top locations are. With so many locations to choose from these days, we know how frustrating it can be to narrow your list down to just a few. To make it easier for you, our experts put together a quick list of sites that we agreed to be the best scuba diving in the world.
Hawaii
It is hard to narrow down any individual scuba diving site in Hawaii. In truth, the whole chain of islands are loaded with beautiful clear-blue waters that are prime for scuba divers both experienced and not. Not to mention, the Pacific waters of Hawaii's are surrounding by volcanoes, mountains, and many other gorgeous natural landscapes.
Some of the best scuba diving can be found in the "big island" of Hawaii. For this reason, Big Island Divers operates one of the largest-scale dive clubs in the United States out of Hawaii. Big Island Divers offers scuba diving guides, equipment rentals, and other services provided by their expert staff. You can find out more via their website here.
The North Florida Cave Network
Some of the best diving in the world can be found close to home. For many Americans, the vast underwater cave system in North Florida is accessible via a single day's drive. Known locally as "Deepworld", the connection of underwater caves is one of the many scenic attractions in the state of Florida.
Locations such as Devil's Den Spring, which is privately owned scuba diving training center, operate out of North Florida. For many, Devil's Den is one of the pinnacle features of Florida's diving cave network. We recommend Devil's Den for the simple fact that it is not only beautiful but also suitable for a veteran as well as newcomer divers. Truly, it's fun for the whole family.
Other scenic cave sites, such as the Blue Grotto Dive Resort, are also located in Florida. The Blue Grotto is a major sinkhole that features deep, dark caves ripe for underwater exploration. Located near Williston, Florida, the Blue Grotto is a fine example of a world-class scuba diving destination.
Cathedral Cove
Cathedral Cove is the main attraction of California's Anacapa Island. But, be warned: this island is not for the faint of heart. Not only are the island's waters notoriously dark, but they are among the world's coldest too. Even in the middle of July, you can expect water temperatures south of 70 degrees. Sounds a bit frigid, no?
A premium wetsuit can safeguard against the effects of cold water temperatures. Plus, once you have adjusted to the environment it is a true sight to behold. You will find yourself immersed in an underwater paradise surrounded by sea lions, exotic fish, coral, and shipwrecks ready to be explored.
Satil Shipwreck
The Satil shipwreck is located off the shores of Eilat, Israel. While not everybody imagines Israel can offer the best scuba diving in the world, it certainly punches above its weight in this category. In our view, the Red Sea is one of the world's hidden treasures when it comes to underwater exploration. Plus, the waters are highly salinized which makes buoyancy a breeze and the water as clear as day.
Amid the various reef restoration projects currently underway off the coast of Israel, you will find the Satil laying roughly 25 meters underwater. It is well preserved and offers many interesting sights. Plus, you can bound to encounter Arabian Angelfish, moray eels, octopi, and Emperor Fish—each of which is indigenous to the Red Sea.
Osprey Reef
The famed Osprey Reef is a submerged atoll off the coast of Queensland, Australia. Osprey ranks among the world's most biodiverse and visually stunning coral reefs. In fact, it looks more like a garden than it does a reef. Once submerged, you will find Osprey to be home to some of the most vivid wildlife and natural scenery you have ever seen in your life.
Osprey Reef is the ideal scuba diving location for just about any diver. Since the central lagoon is only 30 meters under the surface, it can be accessed by relatively inexperienced divers. That is, if they are accompanied by a trained guide or veteran. Some divers have described Osprey as the "ultimate reef diving adventure", and, honestly, we cannot disagree.
Bora Bora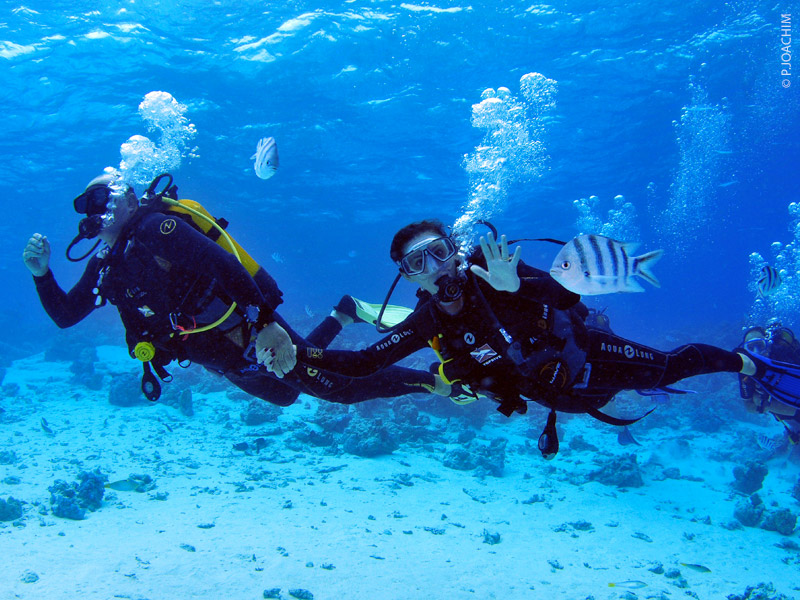 For a scuba diver, there are few pleasures greater than having the privilege to explore the depths of Bora Bora. This tropical destination, located within French Polynesia, is home to awe-inspiring lagoons and exotic species that can only be found within their borders. It is not uncommon to find everything from sharks to Humpback whales in their waters.
Scuba diving in Tapu, one of the best diving sites in Bora Bora, is a true privilege. We have had the honor of diving there on multiple occasions and we can honestly say that it was among the best diving experiences of our lives. Just make sure you keep your eyes wide open, as there is so much to see around you that it is hard to process all at once.
The Darwin Arch
Last on our list, but certainly not least, is the world-famous Darwin Arch. The Arch is located off the coast of Darwin Island, which is part of the larger Galapagos Islands. Nearly a quarter of all the aquatic life found around the Arch can only be found there. If you are a fan of animals or care about the future of endangered species, the Darwin Arch is the diving location for you.
Diving at Darwin Island is a rare experience that is universally treasured by divers both new and professional. We cannot recommend the Darwin Arch enough, as it is a relatively easy, yet visually stunning, diving experience. For this reason, it ranks among the best scuba diving sites in the world.