*This post may contain affiliate links. As an Amazon Associate we earn from qualifying purchases.
Back in the day, owning a 2G phone and playing snake on a monochrome screen was the coolest thing. However, technology has fast changed and transformed our lives.  You now can't imagine a life without a smartwatch.
If you are a diving fan, you'll be glad to know that dive computers have not been left behind.  Although there hasn't been much on the dive scene, manufacturers are now keen on inventing a new breed of computers.
When looking for a dive computer, you need a device that will tell you how much time you've left and your depth.  Some gadgets alert you about the quality of air left in the tank as well as the temperature of the water.
Advanced gadgets have a submersible pressure gauge which measures the amount of pressure left.
Why Should You Get a Diving Computer?
Diving computers are an essential piece of equipment just as much as the soft gear.  This is because no dive school or resort hires out these devices. Also, investing in this gadget gives you invaluable information on a dive.
Sometimes a dive doesn't go as planned. You need a unit that can still display the correct information after changing your route.  They also track your dive every minute to give the correct no-decompression time. You can safely stay underwater without worrying about your gas running out.
Furthermore, keeping track of your diving stats on paper can be taxing. You could end up losing this information or forgetting the details by the time you get home. A dive computer has an inbuilt automatic dive log that tracks all that information for you.  This data can be easily transferred to your computer using a USB cable.
If you are a new diver looking for a dive computer, be sure to check for programmable alarms, an easy to read interface, air compatibility, and low-battering warning capabilities.
The Suunto Eon Steel
The Suunto Eon Steel is the latest advancement in the sports world. Designed by a Finnish company, the tech giant saw the need to introduce a product that would help divers go deeper and for extended hours without compromising on their safety.
The dive computer comes as a result of several years of development. Suunto Eon boasts of a brushed stainless steel bezel and a full-color screen. It's perhaps one of the best looking dive computers around.
Rigid Construction
Suunto has not compromised on the Eon's construction. Featuring a reinforced housing made of strong glass fiber, the dive computer exudes elegance and qualified artistry.  The highly resistant and durable Xensation glass screen means that you can use this computer even in rugged areas.
What's more, the watch has been tested time and again for all types of diving. You can enjoy an operational temperature range of 0 degrees centigrade -+40 degrees centigrade.
The Size
The sheer size of the Suunto dive computer is the first thing you're likely to notice.  Weighing at 340g, the Suunto is over 4 inches, and it's made with a quality stainless steel material.  Although the weight might seem like a negative, it adds to the package and makes it durable.
Once you turn on the Suunto dive computer through the middle of its interface, a display with high-contrast color screen comes on with information.
The information displayed includes the no-fly zoning, depth,  dive time,  time, no decompression planning, temperature reading, and surface interval recording. With its ability to hold 200 hours of logged dives and an additional 3D tilt compensated digital compass, you're assured of an exciting experience.
That's not all. You can plug the Suunto eon into your laptop. This allows you to customize it to display certain function through on-screen configurations.  Also, you can log in your dives using the menu provided.  The manufacturer has also taken your preferences into account. You can choose how the Eon displays information. It could be through digital graphics or a classic numbers-only display.
Also, the log display shows you the entire dive profile which includes time and depth.  The previous release did not have a no-decompression dive planning mode. With the new Eon, you can easily access this update.
The push of a button takes you to the digital compass.  You can still customize these screen settings even when using the compass.
Left-handed users will find the watch convenient as they can change the display so the buttons can be on the left side.  The device has Bluetooth connectivity. However, this only works with the Movecount App which can be freely accessed on iOS and Android platforms,
The fact that it's not easy to press something by mistake is a plus. You wouldn't want confusion in time or depth. Remember to put on the included display shield.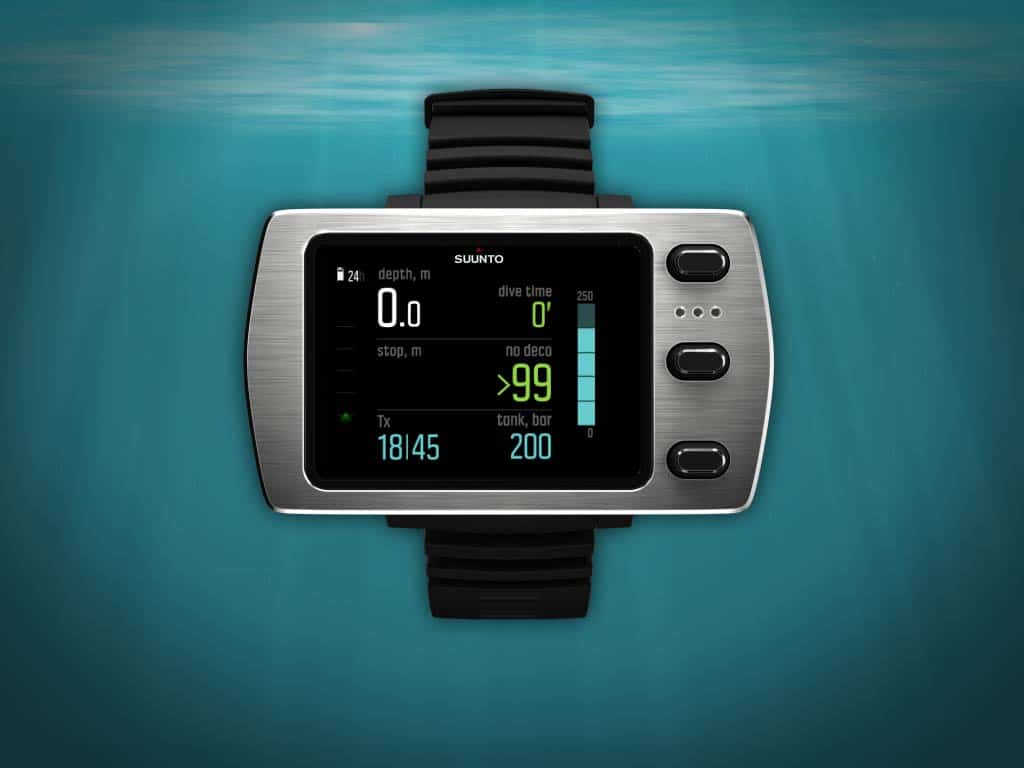 Integrated RGBM
Most Suunto dive computers are conventional. Nevertheless, if you are a technical diver, you might want to go for a more advanced algorithm.  The new watch has an RGBM algorithm which helps to minimize ascent time and maximize bottom time. You can now dive up to 150 m with the eon computer.
Wireless Tank Integration
Suunto has strategically incorporated a state of the art wireless system into its dive computers.  What's more, the system has LED lights which alert you whenever data is being sent.  All you have to do is hold the device next to the transmitter when it's attached to a tank.
After some time, the Suunto dive computer shows you the battery and pressure readings. It's one of the user-friendly systems around.  Unlike other devices, the Eon can display readings from over five transmitters using five different gases attached with specific labels to identify each diver.
This advanced capability goes beyond, in that it shows you the amount of gas consumed. You can now monitor the wearer's breathing rate which helps to maximize bottom time.
If you're a diver, who is interested in prolonging each dive or you tend to use a lot of air, you will find this tool perfect.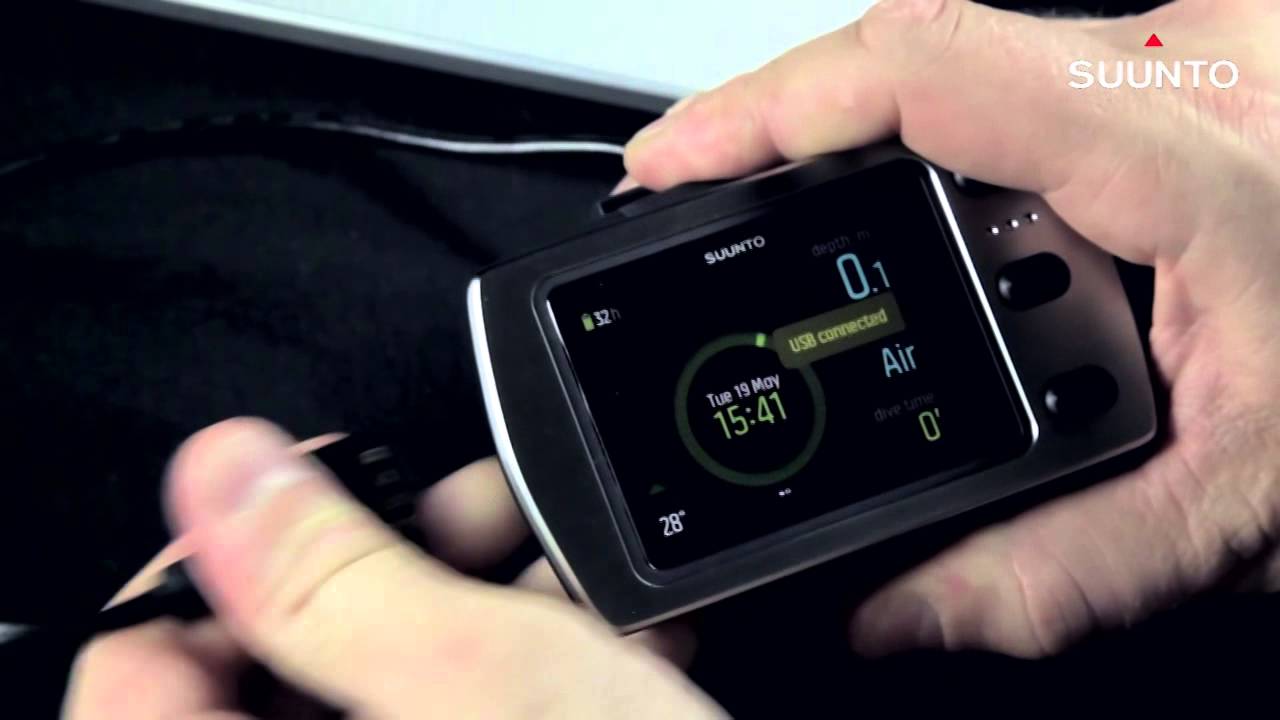 Innovative Capabilities
The Suunto dive computer has stout in-dive notifications and altitude adjustment settings. This elevates the system to a higher level of diver safety.
You'll find different alarm systems like tank pressure limits and depth warning, which comes in handy whether you are a recreational diver or a technical one.
The battery can last up to 30 days out of water on a full charge and 40 hours when diving. You can now have a gadget that not only looks the part but one that has the functionality to match.
Furthermore, you don't have to worry about scratching the elegant steel casing. Suunto has a silicone case which helps to prevent these scratches.  The ergonomic design ensures that you don't block the screen while navigating the menu.
Menu Settings
The menu is easy to navigate and you can comfortably change the settings.  Press the home button which is in the middle to access the menu settings.  From here, you can find your way through the menu structure.
Software
You no longer have to buy a newer model because the one you have is outdated. With the Eon, all you need is to download and update your gadget with new software. Moreover, you can plan out your dives in advance thanks to the Suunto Dm5 software. You can then transfer your data to a laptop.
The Not So Good Part
Although the Suunto dive computer has incredible capabilities, it has some minor flaws. Its weight and size are one of the problems. This forces the watch to slip off especially if you've worn it in reverse.
While this may not be a huge issue, it could interfere with deflation or inflation times. Also, you may find it difficult to wear it on the boat in between dives.
Features
Rechargeable battery with up to 40 hours of dive time
Advanced mechanical construction
Resistant Xensation and highly durable glass
A bungee or strap
User-updatable software and easy interaction with menus
Consistent and visually appealing displays
Customizable display to meet your evolving needs
CCR/Trimix/Nitrox/air/gauge modes
LED backlight
Multiple tank pressure reading
Tech Specs
Rechargeable lithium ion battery
150 m water resistance
347g
Stainless steel bezel material
Xensation lens material
Elastomer strap material
492 ft. water resistance
The box contains the Suunto Eon steel, a quick guide, USB cable, bungee adapter cord, protective boot, and a display scratch guard sticker. A legal leaflet is also attached.
The Suunto dive computers are a must-have if you're looking for a rugged, fully customizable, technologically advanced, versatile, and usable device. Moreover, it's an excellent investment usable by any level of diver.  However, the watch is most suited for advanced diving. With durable construction and an updatable software, you're guaranteed that this is an investment that will pay off.