*This post may contain affiliate links. As an Amazon Associate we earn from qualifying purchases.
In March 2018, the Independent State of Samoa was added to the growing list of shark sanctuaries throughout the Pacific Ocean. Over two dozen different species of sharks and rays live in the waters that surround Samoa, and without protection, they are all risk of becoming overfished and extinct.
In an age where sharks are often viewed as the villainous creatures of the sea, and people either love them or hate them, many don't understand the purpose of a shark sanctuary. Let's take a closer look at why shark sanctuaries exist and why it's essential to protect diversity in our world's shark populations.
Different Species of Sharks
People are often shocked to hear that there are well over 400 species of sharks across the globe; all of the species of sharks are divided into eight subspecies. Take a visit to your local zoo or aquarium, and you're likely to see a variety of shark species.
Some of the most common species of sharks that live in the warm waters of the Pacific Ocean are considered to be large sharks, such as the Great White, Whale sharks, or Basking sharks. Although large sharks can be intimidating, they aren't all as aggressive as the Great Whites.
According to the National Marine Sanctuary Foundation, some of the common species that live in Samoa include blacktip and whitetip reef sharks, hammerheads, tiger and whale sharks; Eagle rays are the most commonly seen type of ray in the waters around Samoa.
Why Do Sharks Need Protection?  
Even though sharks have a bad reputation for being flesh-hungry man-eaters, they don't kill nearly as many humans as the number of sharks that humans hunt every year. According to National Geographic, your chances of dying from the flu is 1 in 63 while your chances of being killed by a shark, during your lifetime, is about 1 in 3,700,000.
It's not that sharks don't have the potential to be dangerous, but in many shark attack cases, a swimmer or diver just happened to be in the wrong place at the wrong time. Humans, across the globe, are responsible for killing an estimated 100 million sharks every year and many experts believe that it's a conservative estimate.
Protecting sharks is essential for a number of reasons, but mainly because they grow slowly and are also slow to reproduce. Some sharks have pups every other year, and others have less than 10 in a calendar year. We simply cannot restock a dwindling population of various species that are at risk of becoming endangered.
Since most people view sharks as the "bad guys" of the water, many assume that the killings by humans are keeping the waters safer and doing everyone else a favor. If people continue to hunt sharks at an alarmingly high rate, the entire ecosystem of the ocean will change (and not for the better). So to answer the question, "Do sharks really need protection?" The answer is a definite yes.
A Shark's Role In The Ecosystem
Sharks are alpha predators, also known as apex predators, and without a healthy number of them swimming in our bodies of waters, the ecosystem begins to fall apart.
As the apex predator, a shark will get rid of weak or sick fish and help with species diversity. Not only do they help keep the ecosystem in order but sharks are also known to play a role in the keeping coral reefs alive and well.
If sharks were completely obliterated from our oceans, large predatory fish (like groupers) would feed on herbivores. Without the herbivores, coral reefs are smothered with algae and would eventually kill all of the coral reefs (which are already in danger due to climate issues).
Sharks can also play a role in saving and boosting the economy. In North America, the clam shortage can be directly linked to the elimination of sharks. Without the sharks, the ray population grew, and they ended up eating scallops and clams.
According to Oceana, another example of a live shark benefiting an economy is ecotourism in destination hotspots like the Bahamas or Belize. A shark that is caught and killed by a fisherman may be worth less than $100, but having live sharks in an area where people dive on vacation can bring in hundreds of thousands to millions of dollars.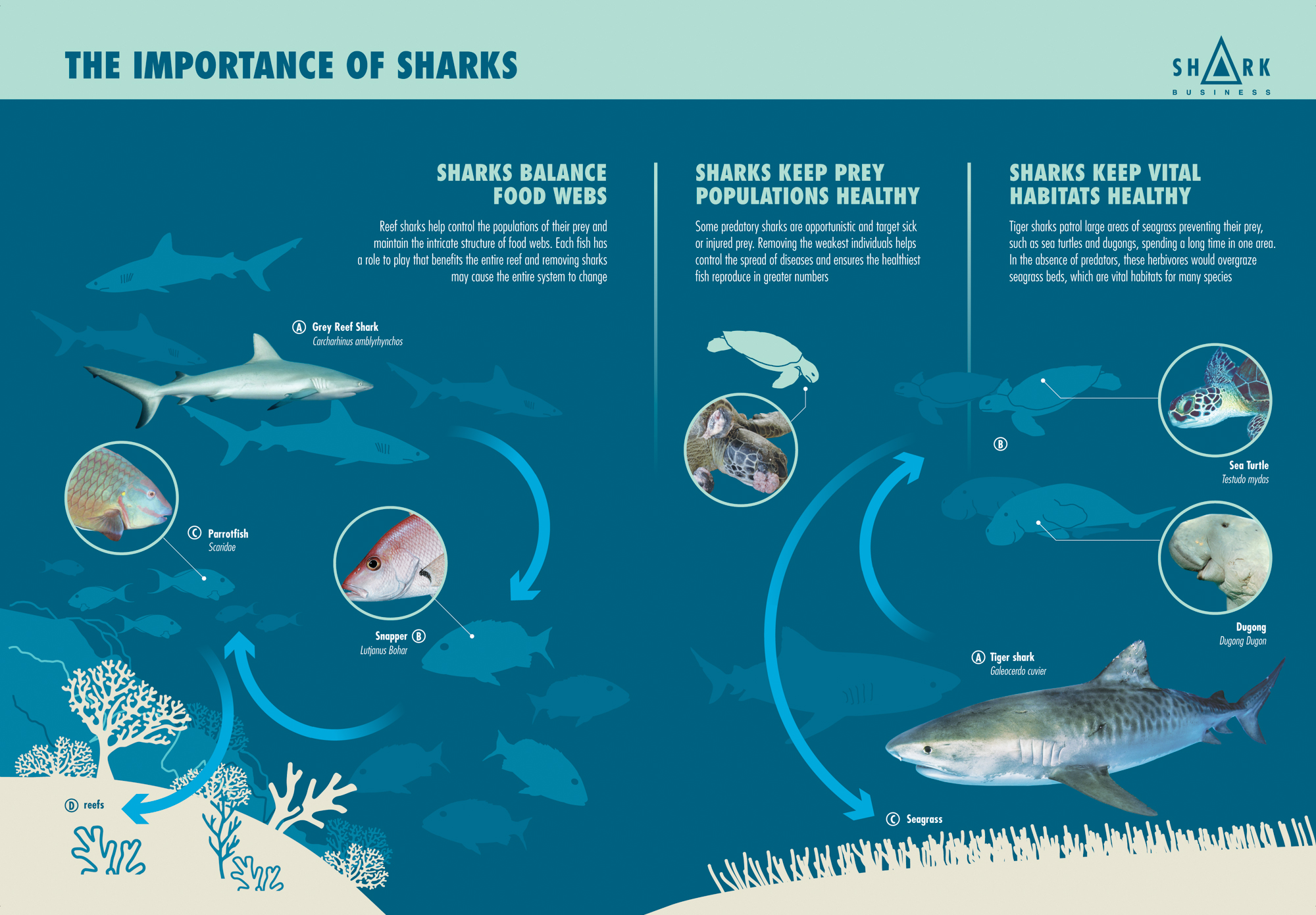 A Growing List of Sanctuaries
With Samoa being the latest country to committing to end the commercial fishing of sharks and help to keep the ecosystem healthy, there seems to be hope and anticipation that more shark sanctuaries will be built shortly.
When the announcement of the shark sanctuary was made, the Prime Minister of Samoa, Tuilaepa Aiono Sa'ilele Malielegaoi described the sanctuary as a 50,000-square mile zone. In that zone, possessing, selling, or trading sharks (or products containing shark) is unlawful. It is also illegal to use fishing gear that's specifically designed to target and lure sharks.
Let's take a look at the other shark sanctuaries (besides the one in Samoa), their location, size, and when they were established:
Palau: 233,317 square miles, est. 2009
Maldives: 353,742 square miles, est. 2010
Marshall Islands: 769,205 square miles, est. 2011
Honduras: 92,757 square miles, est. 2011
The Bahamas: 242,971 square miles, est. 2011
French Polynesia: 1,840,642 square miles, est. 2012
Cook Islands: 756,812 square miles, est. 2012
New Caledonia: 480,697 square miles, est. 2013
British Virgin Island: 30,933 square miles, est. 2014
Saba: 3,102 square miles, est. 2015
Bonaire: 3,747 square miles, est. 2015
Federal States of Micronesia: 1,155,448 square miles, est. 2015
Kiribati: 1,327,084 square miles, est. 2015
Cayman Islands: 45,998 square miles, est. 2015
St. Maarten: 1,935 square miles, est. 2016
Dominican Republic: 104,050 square miles, est. 2017
Do Sanctuaries Keep Sharks Protected?
While many people are supportive of Samoa joining the growing list of shark sanctuaries, some are skeptical of the efficacy of a shark sanctuary. A shark sanctuary is not like an aquarium, where sharks are completely protected from the threat of being illegally fished.
The best way to keep sharks protected within a sanctuary is through regulation and without the right resources, there's no guarantee that the sharks will live safely among the so-called protected waters.
While the commercial fishing of sharks has decreased, there are still issues of illegal fishing in sanctuaries; this is more likely to occur when there are limited resources like lack of enforcement on a small island. Although increasing enforcement may be difficult, it's not impossible. Find it hard to believe? Here are a few reasons why protecting a shark sanctuary is possible.
Shark Sanctuaries Are Less Complicated Than People Think
In shark sanctuaries, there is no governing over other species of aquatic life, and there are no details to consider such as catch limits or fishing times. Merely possessing sharks, shark parts, or fishing sharks is unlawful in a shark sanctuary. Enforcement officials shouldn't have to worry about anything else.
Regular Enforcement Officers Are Adequate For Watching Over Sanctuaries
If an enforcement officer can tell the difference between various species of fish (which are legal to catch) and a shark, there is no need to hire extra personnel with more experience. Watching over a shark sanctuary can become a community effort. If people see someone catching or possessing a shark (or other suspicious activity within the sanctuary), it can be reported.
Creating Regulations That Allow For Proper Training and Education
As eager as sanctuaries are to get up and running, regulations can be written to include proper training and necessary education for anyone who is interested in helping to watch over the sanctuary or for hired enforcement.
Ways To Improve Sanctuaries
While proper training and education are essential to keeping a shark sanctuary running effectively, there are other ways that sanctuaries can improve to ensure greater protection for sharks.
Sanctuary laws should be strict with expensive fines for violating laws
Banning the sale, trade, and possession of shark-related products (not just fishing)
Making all types of fishing techniques, that may attract sharks, illegal
Regular inspections of fishing vessels
Allow enforcement to work with areas outside of sanctuary to ensure the safety of sharks
Even though shark sanctuaries may not be 100 percent effective right away, with the determination and cooperation of a country and its citizens, sanctuaries can grow to be an impenetrable safe space for shark species.